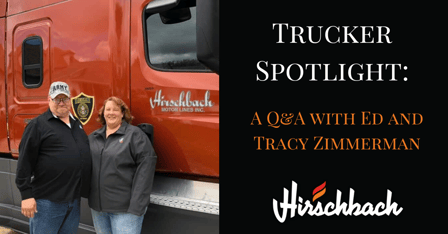 Life has been a bit of a whirlwind for Hirschbach team drivers Ed and Tracy Zimmerman since recently receiving the 2019 TCA Highway Angels of the Year. At the core, the Zimmermans are just two people who helped out because they thought it was the right thing to do.
In this Q&A interview, the Zimmermans, who are long-time truck drivers, discuss all things trucking, how they got into the industry, why they love it and offer advice for anyone looking to start out in the industry.
*Note, this interview has been edited for grammar and brevity.
Q: How long have you been in the trucking industry? How long have you been driving?
Ed: I've been in it for 35 years and Tracy for 15 years.
Q: Have you always driven together?
Ed: Not always. The first five years we knew each other, I chased her around the country trying to convince her to date me. Once we actually got together, we've been team on and off for 10 years now.
Q: What drove you to be a truck driver?
Ed: I had just come out of the military. I like to travel. My dad was a truck driver and he asked me if I wanted to learn how to drive. I said, "Sure."
He told me to show up with a shave and a haircut and I took off and went driving. I've been doing it ever since.
Tracy: I was living in Texas at the time and all my friends were truck drivers. They would come home and talk about all these neat places they had gone, like Vegas, LA, Miami and New York City. I thought, they get paid to drive, I might as well give it a shot. So that's how I got into it.
Q: What's your favorite place you've ever got to drive to?
Ed: I love driving up in Montana in the summertime. It's just really, really beautiful country up there.
Tracy: I like Utah on I-15 through the Canyons. It's gorgeous.
Q: What's your favorite thing about being a truck driver?
Ed: The freedom. You get told when and where to pick up a load and when you have to drop it off. Most companies leave you alone in between. If you're on time to pick up and you're on time to deliver, they leave you alone. So, you have a lot of freedom out here.
Tracy: And on top of that, you have the best office with a view. Everyone talks about have that skyscraper, corner office window with a view kind of thing. I think we've got the better deal. We get a brand-new sunrise every morning, a different sunset every evening and our scenery changes mile by mile. You can't beat that.
Q: You recently received the 2019 TCA Highway Angels of the Year award. What does it feel like to step up in such a big way and then all the recognition that followed?
Ed: The part about helping him out, that was just a reaction. There was a situation where we could help and we did. There wasn't any thought of rewards or anything else. We could help, so we did.
Right now, we're getting all these accolades and with getting this award, it's a very humbling experience. It's become so infrequent in our society that people help each other that just doing what people should do, being a good human being and helping your neighbor out, you get an award for it.
Q: You mentioned you're involved with the Special Olympics Committee. Can you tell me a little more about that?
Ed: I'm on the Driver Advisory Committee for the World's Largest Truck Convoy for the state of Nebraska. It's a fundraiser for Special Olympics. I've been involved for six years.
We all meet up in Hastings and pay an entry fee. There's auctions and we have some music and a meal. On Saturday morning, we get the athletes in the truck with us and they get to ride up from Hastings to Grand Island to the big truck stop up there. We have another meal and another auction. All the money that we raise goes to Special Olympics to help these kids travel and go their events.
Q: If someone was considering become a truck driver, what would you advise them you like? Is there anything you'd say?
Tracy: Definitely talk to your family about it. If you're married or dating or have kids, talk to your family. Because it is a tough life. You're going to miss birthdays. You're going to miss holidays. You're going to miss your anniversary. You're going to come home and all you want to do is relax, but then you get handed a "Honey Do" list with 10 different things on it. So, you really have to think about that.
Then do your due diligence when you're looking to get your CDL. If you're going to go to a school, pay attention to what's out there. Check their reputation. Check their references and reviews and make sure it's a good, reputable company that you're going to go get your CDL with.
Once you get your CDL, the world is your oyster. You have thousands of trucking companies that would hire you and it's just a matter of finding the one that's a good fit for you that's going to give you the home time you want, the pay you expect, how are they on holidays, and do you really fit with the personalities there at the office.
You just have to do your due diligence before you jump into this career.
Q: How long have you been with Hirschbach?
Ed: Just a little over a year, Feb. 2019.
Q: What made you start with Hirschbach?
Ed: Tracy and I wanted to go back to driving team. The company that we worked for before we came over here was a small company, he only had 6 trucks. He didn't have any team freight, so Tracy was in one truck and I was in another. We just decided we wanted to be back in the truck together again and run team. So, we started looking and Hirschbach was one of the companies we looked at so we decided to give them a try.
Q: Have you liked working with Hirschbach thus far?
Ed: Oh, very much so. From talking to the recruiter, when we were talking to Lacey Curry, everything she told us is what happened when we got to the office.
Tracy: There was no golden carrot being dangled. She didn't promise things that never happened or make it seem grandiose. It was very down to Earth. You're going to do this, this and this. And this is what you're going to get. And it was all factual. You don't get that from a lot of trucking companies.
Once we got into Hirschbach, it really is a family atmosphere. They care what their drivers think. They take into consideration the suggestions the drivers make and if it's something that benefits the company, they implement them. They don't dismiss their drivers. They really take into account their feelings, their frustrations, their goals, where they want to be, what they want to do, and they make it happen for us. And it's nice to know that they really do care about us.
Q: Do you have your pets with you?
Ed: Yes. Between Tracy and I, we've pretty much always had a pet on the truck. We've got a retired truck dog at home. The only reason why she's not on the truck anymore is because she tore her ACL and she can't jump in. And I'm not picking up an 85-pound dog every time she needs to go to the bathroom.
Then we've got Tracy's dog. He's an Australian Shepard. He will be 2 in July. His name is Baxter. I have an English bulldog, who is 9 years old. Her name is Sophia.
Interested in learning more about taking your pets on the road. Check out our recent blog here.
Q: What do you find you like most about traveling with your animals?
Ed: It's company. When Tracy and I were running our separate trucks, my only companion the whole time I was out on the road was Sophia. You form a real attachment with them when you're traveling with an animal like that. The animals get to where they know you and they are good company and every animal has their own personality. It's a lot of fun to see them come out and bring out their personality and have a traveling companion.