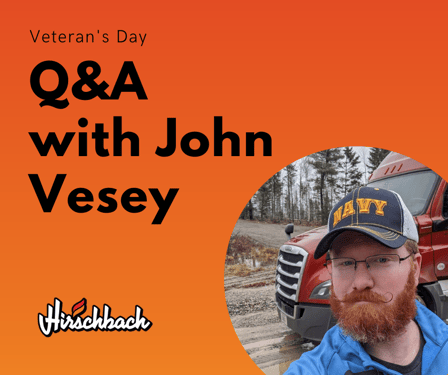 In honor of Veteran's Day, we wanted to do a special Q&A with one of our veterans: John Vesey.
John has worked for Hirschbach for about 5 ½ years in a variety of positions from lease operator to fuel and routing specialist to running the recruiting trailer to managing cargo trailers.
We recently virtually sat down with John to hear about his winding path through Hirschbach and his experience in the Navy.
Q: You are a Navy veteran. Why did you decide to join the military?
A: I joined the Navy because I didn't know what I wanted to do. I hated math and science, so I figured I'd go into the Navy to figure things out. You never really think about possibly going to war.
I joined the Navy in August 2001. I was in Boot Camp on Sept. 11, 2001. They didn't tell us anything about what was happening, but we figured something was going on as people from New York City were being called out and sent back home to be with their families.
Ten days after 9/11 is when they told us about the whole thing. We didn't have the fear of the unknown that everyone else had because by the time we found out, we knew what had happened.
But knowing about the tragedy, it was an immediate flip of the mind. We needed to start getting ready for battle.
Q: Wow. That's quite a different experience than you were expecting. What did your service look like?
A: I served in the U.S. Navy from Aug 2001- Aug 2005. I went to the Persian Gulf in 2004-2005 for six months supporting Operations: Iraqi Freedom and Enduring Freedom. I earned a Navy Achievement Medal for Lifesaving, Global War on Terrorism Expeditionary Medal, and Global War on Terrorism Service Medal. I was honorably discharged as an E-5, Storekeeper, Second Class Petty Officer.
Q: Congratulations on all your accomplishments and thank you for serving our country. What did you then decide to do after leaving the military?
A: After the military, I don't think I could have ever settled down. I decided to become a paramedic in Chicago, Ambulance 10. I was paramedic class president there.
Q: How did you end up in the trucking industry?
A: I've been with Hirschbach now for about 5 ½ years. I didn't drive a ton before joining Hirschbach. I switched here one day when I saw a bunch of Hirschbach trucks. I like the variety more than anything else.
Q: Can you tell us a little bit about your experience about all the different roles you have had here?
A: In trucking, I helped Hirschbach earn several green fleet awards, including four EPA SmartWay Excellence Awards. I was Hirschbach's fleet representative for Run on Less in 2017 and 2019, a fuel economy demonstration with the North American Council for Freight Efficiency (NACFE) and Rocky Mountain Institute. This year in February, I was a panelist and spoke at the American Trucking Association (ATA) Technology and Maintenance Council (TMC) on Advanced Sustainability in Trucking. In May, I also was a panelist on a webinar on the Future of Sustainable Trucking, hosted by GreenBiz.com. This summer I was honored as one of Transport Topics' "Truckings Frontline Heroes." And in December 2019, I was picked to take a load of wreaths for Wreaths Across America to Houston National Cemetery and was a part of their convoy.
Q: What made you want to go back on the road?
A: The road calls out to you and you'll just want to get back out there eventually. I am a single guy, so that makes the decision a little easier, too. That little taste of being on the road lead me to want to go back.
Q: Lastly, just for fun. Tell us one thing about yourself people may be surprised by.
I was a Boy Scout and earned scouting's highest rank of Eagle Scout at 14.
______________________________________________________
Special thank you to John and all the veterans who work for and with Hirschbach. Happy Veteran's Day!