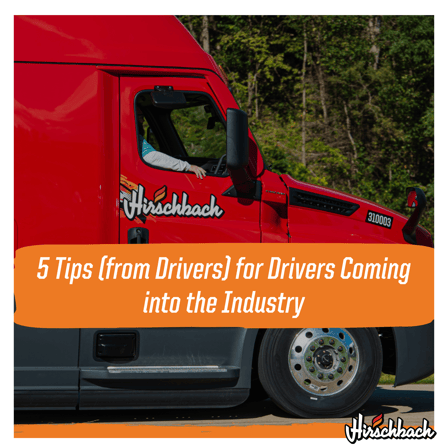 Let's just cut to the chase: Being a commercial truck driver has some substantial pros and cons. You get to travel and see places you may have never seen otherwise, but it can take you away from your loved ones for long stretches of time. You don't have to sit at an office desk staring at a computer all day, but you are still seated all day. You can bring a pet on the road with you, but you work alone or with one other human.
It's a lot to consider and anyone who is thinking about becoming a truck driver should give it thought, speak to their families and learn everything they can before jumping in.
We wanted to make learning best practices a little easier, so we asked Hirschbach Facebook followers for what advice they'd give drivers just coming in.
Here are the top 5 tips from fellow drivers:
Safety first
"It's the number one thing that everyone should now do."
Being safe on the road is always going to be important, whether you are new to driving or a seasoned professional.
Yet, being safe on the road is more than just keep your truck maintained. Some drivers point out that you should know your limitations and what you can and cannot do, and that includes shutting down because of the weather or if you're just too tired.
Never let other drivers rush you. Take your time. Don't do anything that makes you feel unsafe or second guess your actions.
One driver suggests getting a dash mount for your phone so you remain hands free while on the road. Use all of your mirrors, and always open the windows when in parking lots or backing up, as well as going through small towns, neighborhoods or school zones. Turning down the radio through these moments is also helpful as an extra safety precaution.
Another driver recommends always assuming there's a car next to you in your blind spot before changing lanes because there usually is. It's better to be safe than sorry.
Pay attention
"Pay attention to detail and be like a sponge absorb as much as possible."
There is a lot to learn about driving and the industry. Simply paying attention is a great place to start. You should always get out and look. Noticing what others may not see can help save yourself and your career. Bonus tip: never allow yourself to get overconfident. When you do, that's when you start getting too comfortable and stop keeping such a close eye on things.
Whenever you're going to an unfamiliar place, you can check the Google maps satellite view to get a better view, and can always call the customer to ask them which driveway to use so you are prepared beforehand. There are also trucker GPS options, so you are not reliant on Google maps for trucking routes.
Communicate
"Communicate as often as necessary."
Communication is key for the trucking industry, both personally and professionally. Make sure you set the time to connect with your family. If timing doesn't always work out, try and get creative. Record videos for each other that you can each watch when available.
On the professional side, it's still important to communicate. Things will come up while out on the road and you'll watch to communicate as much as possible so everyone is on the same page. One driver even advised: "Communicate and don't stress over things you can't really control.... and drive how you're comfortable."
Bonus tip: You will have some great days…and you will have some horrible days. It's important to have at least a couple of trucker buddies to call to vent to.
Be kind
"We all get that things go wrong and don't go as planned, it's trucking. So, don't be a jerk by taking it out on the people around you."
Trucking can be a high stress job, but it can feel even worse if everyone is grumpy and rude. The shipper/receive may have nothing to do with what soured your mood, so it doesn't help to take it out on them. Being considerate of others can go a long way.
Don't be afraid to ask for help
"I ask for helping backing sometimes at the truck stop when it's tight. I'm not scared. I'd rather have another set of eyes helping me then to make someone lose a mirror or worse."
Asking for help may sound scary, but it shouldn't be. Asking for help won't make you look incompetent. One driver said, "If you need to make 6 or 7 pull-ups to get in the spot, go ahead. NEVER think you know it all. That's when you're going to get hurt or get someone else hurt."
Some Additional Bonus Tips:
Always wear flip flops in the truck stop showers.
When kids' do the horn arm pull, honk your horn twice (if safe).
Take a business management course with basic account.
Learn how to manage your time and money efficiently.
Learn how to spot mechanical issues and fix them before they become real problems.
Find ways to have fun