Hirschbach Motor Lines is All In To Your Health for our entire Hirschbach family. We know most of you don't have a supported office environment to walk into Monday through Friday, so we are always looking for new ways to provide support. In addition to Sergio, Marisa and Cortney in our Wellness Department and the Hirschbach blog, we now have a Healthy Hirschbachers Facebook group.
Members can share their journey - wins and struggles alike - and offer tips and encouragement to each other. The Wellness Team will be active in the group and offer support, but we also want this to be a space to support each other with your wellness goals.
If you haven't already seen it posted on our Facebook page, there is a #hmlfitinfeb contest going on through this month. One dedicated participant will win a $200 Healthy Gift Basket that includes a $50 Visa Gift Card. This basket has some outstanding products included!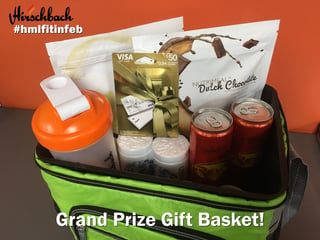 To win, post a photo of yourself doing something active and tag it on Facebook or Instagram with #hmlfitinfeb. (Hint: The new Healthy Hirschbachers group would be a great place to post!) It can be at home, in your truck, in the office, at the gym, enjoying the outdoors, or wherever you happen to be. Just get up and get moving and then post a photo! The participant that has posted the most days by the end of the month will win the grand prize (only one post per day, please). Everyone that participates will be entered into a drawing for additional prizes. **Make sure your #hmlfitinfeb posts are set to public. Message the Facebook page if you have any questions.**
Let's make HIRSCHBACH the healthiest trucking company in America!!