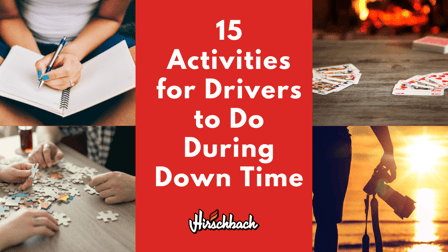 When you are a truck driver, you spend a lot of time on the road. While a lot of that is drive time, there is also time in between routes. Whether you drive by yourself or in tandem, you have time to spend out on the road.
Here are 15 suggestions for you to enjoy your down time, with and without technology.
Listen to a Podcast
One of the best things about how popular podcasts have become is that there is literally a podcast for anything. Do you love pop and internet culture? Check out Slate's ICYMI. Fascinated with true crime? Check out this list of the best True Crime podcasts. Wish you could talk cars all the time? There are podcasts for that, too.
Read a Book
Whether you like to read hard copy books or on an eReader, this one is simple: read a book. Similar to podcasts, there are a ton of options out there for you.
Exercise
Doing workouts can help with your mental and physical health. There are workout apps that you can download right to your phone. Need a little extra motivation? Check out this Zombies, Run app or these other top running apps.
Take a Nap
There can be a lot of rushed time while out on the road. Sometimes it's nice just to take some time to relax and take a nap.
Meditate
If you don't want to commit to a nap, it's still beneficial to take time to decompress. Whether you have everyday stress, a hard time falling asleep, or need help focusing, there are meditation apps for everyone. Here are some of the top meditation apps.
Be a Tourist
While there are some limitations to where you can go with your truck, you can still take the time in the places you travel to find something to do. While you can't detour from your path or leave a truck unattended during the job, there are ways to see some things in the places you travel.
Learn a New Language
Have you ever wanted to learn a different language? Great! While it seems like an impossible task to learn a new language on-the-go, with Duolingo you can learn anytime, anywhere.
Cook a New Meal
Do you enjoy cooking and trying new flavor profiles? Awesome! Don't lose that gusto for your gumbo just because you are on the road. Get a portable grill or crockpot and test out new recipes.
Get into Photography
Photography is a great hobby to get into while out on the road and play around with in your down time. You can take pictures of anything you want!
Start a Collection
One of my favorite things to do as a kid was collect things. Bring that fun back into your life. Magnets. Stamps. Mugs. Whatever interests you is a good starting point for a collection.
Get a Sketch Pad
Drawing can be fun and cathartic. Even if you never considered yourself an artist, it's your sketch pad. Draw whatever you want.
Journal
A lot happens in your day. Start a journal and write a little every day. You can buy a journal or embrace an app like Daylio that can help you track goals, as well as being a mood diary and happiness tracker.
Train Your Brain
Brain training apps like Lumosity or books you can buy at any drugstore (crosswords, Sudoku, word searches) can be a fun and educational way to pass the time.
Play Card Games
If you drive tandem, there are a lot of card games you can play together during your off time, like these options. If you drive solo, there are a variety of different Solitaire games you can tackle.
Puzzle Apps
There are all kinds of puzzle apps out there whether you like brain teasers or jigsaws or matching puzzles.
Conclusion
Don't waste wondering what to do in your down time. Try a new hobby or test out a new app.