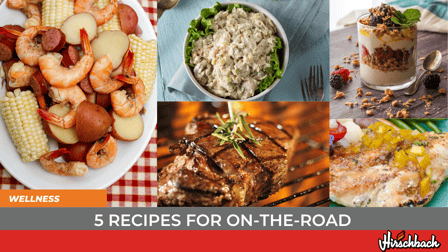 Sometimes when you are out on the road, you just want to eat something homemade and nutritious. Whether you use a grill or a crockpot or raw, something fresh always hits the spot.
Below is a mix of fellow drivers' favorites and classic on-the-go meals that are easy to prepare in the cab:
Shrimp Boil
Lyndell Holmes sent in this recipe, where you need to get the crockpot out.
Place shrimp along the bottom of the crockpot.
Layer potatoes on top of shrimp.
Cut up smoked sausage put on top of potato layer.
Corn on the cob to top the smoked sausage.
Lastly, pour chicken stock over it and cook all day.
Healthy Chicken Salad
Ingredients:
1 large can cooked chicken
½ cup plain Greek yogurt
1 tsp honey
⅛ cup chopped grapes &/or apples
⅛ cup finely chopped celery &/or carrots
1 tsp slivered almonds
Instructions:
Drain water from chicken
Mix chicken and yogurt in a mixing bowl
Stir in honey
Stir in grapes/apples, celery/carrots, and almonds
Grilled Steak and Sides
Driver Eric Quinn suggested a grilled steak. Preparation advice: with each turn of the steak, place a coating or A1 sauce on the upside. This recipe goes well with mashed potatoes and grilled corn. You can place the corn in tinfoil with butter, salt, pepper and garlic powder.
Peach Salsa Chicken
Ingredients:
2 thawed boneless chicken breasts
½ jar peach preserves (approx. 9 oz.)
½ jar medium chunky salsa (approx. 8 oz.)
Instructions:
Cook chicken in covered cooker on high for 3 hours
Drain juices from the cooker
In a bowl, mix preserves and salsa
Pour mixture over chicken
Cook, covered, on high for 30 minutes
Greek Yogurt Parfait
Ingredients:
1 cup plain, 2% Greek yogurt
1/2 cup granola
1 cup mixed fresh berries
2 teaspoons honey
Scoop 1/2 cup of Greek yogurt into the bottom of a bowl or large cup. Top with 1/4 cup of granola and 1/2 cup berries. Drizzle with 1 teaspoon of honey. Repeat to make another layer using the remaining ingredients.